Our News
Why should you know about food trends?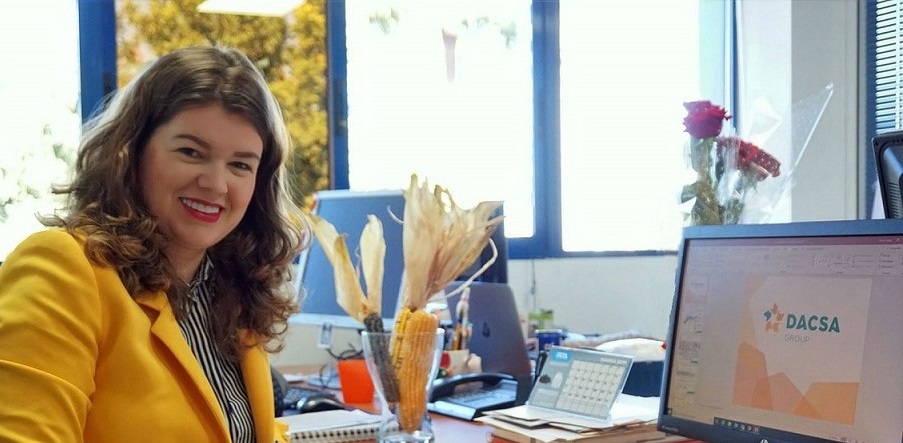 Listening to the needs of consumers and food trends is a basic requirement if you want to know how to adapt to them. For any company it is essential to ask what the client wants, what they are looking for and even to go a step further and try to predict what they will be looking for in the future. Innovation and the research of trends must go together in order to achieve success.
In a world that is increasingly aware of healthy eating, and the benefits this entails for people, Dacsa Group found a turning point. This is why, today, we wanted to talk to Maria Ciuban, Specialties Technical Sales Manager at Dacsa Group, who is one of the people in charge of identifying these trends and advising clients. The relationship between María and our clients goes beyond the sale, as she says: 'I resolve doubts, I give them ideas and I guide them with my knowledge. I'm one more collaborator. '
María graduated in Human Nutrition and Dietetics and started her career at Dacsa in 2016, in the R & D department.  A few years later, she made the leap to the commercial department. Thanks to her studies, she is able to see and understand those trends affecting the market, or, as she says: "detect the needs of the market and transform them into advantages for our customers." Therefore, if you want to know the current trends of the sector, she is the person you must ask and we have done so.
What are the current trends in the food market?
In her day to day role, she is not only involved in sales work, but as we have already said, her position of Specialties Technical Sales Manager finds her always immersed in readings and studies that allow Dacsa Group to be the partner of choice of our clients.
As a reference, Maria told us about the Specialty Food Association, which highlights the use of plant-based food as a trend. As the number of people who are concerned about their health increases, plant-based foods become more popular. From vegetables, tubers, pulses or algae, the industry is committed to a new range of healthier products, with functional properties, reducing the use of additives and promoting clean labeling, at the same time that sustainability is required, using recyclable packaging in harmony with the environment.
Ethnic cuisines are not left behind either. Having more and more possibilities to travel and to get to know other cultures, new generations do not stop looking for the most varied culinary experiences, affirms Maria.
Year after year the number of vegans and vegetarians in the world is increasing. This is why it is not surprising that we are on the shelves with an increasingly wide range of meat substitutes.
The Whole Foods Market supermarket is also a source to consider. While the number of vegans and vegetarians is increasing, the consumption of meat products is decreasing, but despite that, consumers do not forget the taste and texture of these.  Therefore, they look for the same in the substitutes and the industry responds with products that live up to their expectations. Mushroom-based snacks with umami flavour and textured protein that imitates meat are two very clear examples of where, when the demand is met, the industry moves and puts products within reach of the consumer.
"We like to take care of our health, but we also do not want to let go of the whims," says María, which is why we will surely see, throughout 2019, that ice cream will be one of the ´guilt free´whims. Not just any kind of ice cream either. It will be increasingly common to find avocado, tahini, hummus or coconut water ice cream according to the same Whole Foods Market report.
We cannot finish this summary of trends without talking about Mintel, a company dedicated to research and market analysis, marketing and advertising, who recently published the report Global Food & Drink Trends 2019.
Three trends stand out in this report:
Sustainable consumption: It seeks to reduce waste, trying to achieve a circular economy. For this, the collaboration of all stakeholders, from producers to consumers, is necessary. Everyone should be aware of the importance of making the most of resources and generating the least possible waste to protect the environment.
The consumption of convenience: These are prepared products that require minimum processing by consumers. Here comes the personalisation, new flavors, the appearance of new generations of ready-to-eat meals and in general any product that is healthy and quick to prepare and consume. Consumers are increasingly busy and they do not have time to cook, which is why they look for healthy food ready to eat. It is important that these products meet their planning, purchasing and preparation needs.
Consumption by ages: We seek foods that promote health, improve the quality of life and increase longevity.  It is not uncommon for many innovative products to appear, such as functional foods that emerge with the premise of achieving healthy aging.
We talk about food and beverages with specific purposes,  i.e prevention or health improvements. They are foods that are designed with the help of doctors and nutritionists. Life expectancy increases and we should not ignore that part of the population that has special requirements such as bone, eye or brain health or any other deficiency related to advancing age.
At Dacsa Group we opened our company up to the field of specialties in 2014, with the addition of Molendum Ingredients to our business group, with headquarters in Zamora. The range of products has been increasing, having started with cereal flours and some pulses, and, right now, we have more than 50 references. This is an ongoing process that adapts to the needs and trends of the market.